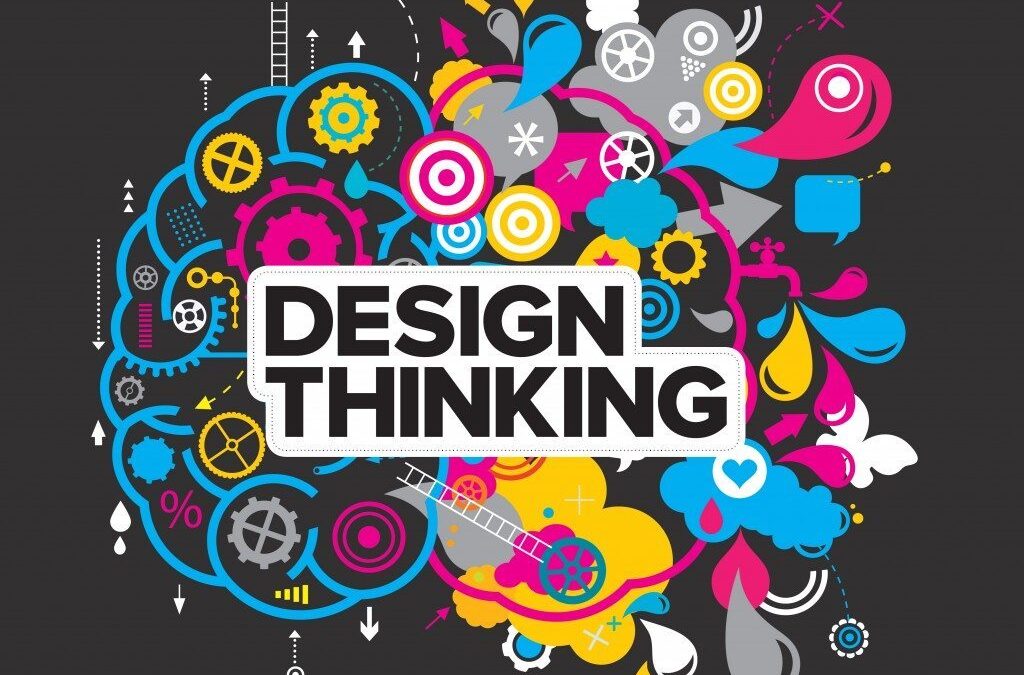 Last week, I published a post with a very simple goal – define innovation so we can stop debating what it means and start doing it.
The response was amazing.  So, I figured that this week I would tackle another buzzword – Design thinking.
We've all heard it and we've probably all said it but, like "innovation' we probably all have a different definition for it.  In fact, in the last few months alone I've heard it used as a synonym for brainstorming, for customer interviews, and for sketching while talking.  Those things are all part of Design thinking but they aren't the entirety of Design thinking.
What I tell my clients
When a client asks if we're "doing Design thinking," here's what I say;
"Yes, because Design thinking is a way of solving problems that puts customers and stakeholders, not your organization, at the center of the process and seeks to produce solutions that create, capture, and deliver value to your customers, stakeholders, and your company."
The Basics
What: One could consider the official definition of Design thinking to come from Tim Brown, Executive Char of IDEO, who stated that "Design Thinking is a human-centered approach to innovation that draws from the designer's toolkit to integrate the needs of people, the possibilities of technology, and the requirements for business success"
Why: Useful in solving "wicked problems," problems that are ill-defined or tricky and for which pre-existing rules and domain knowledge will be of limited or no help (or potentially detrimental)
How:

Inspiration

: Understand the problem by building empathy with stakeholders (deeply understand their functional, emotional, and social Jobs to be Done) and document that understanding in a brief that outlines goals (ideal end state), bounds (elements to be avoided), and benchmarks against which progress can be measured

Ideation

: Generate ideas using brainstorming to develop a vast quantity of ideas (divergent thinking) and then home in on the ideas at the intersection of desirability, feasibility, and viability that best fit the brief (convergent thinking)

Implementation

: Prototype ideas so that they can be tested, evaluated, iterated, and refined in partnership with customers and stakeholders, ensuring that humans remain at the center of the process.

When: At the start of any R&D or development process

Traditionally, design was involved only in the late stages of development work, primarily to improve a solution's functionality or aesthetic. Design Thinking's ability to pull the designer mindset into the earliest phases of development is, perhaps, one of the biggest impacts it has made on business and technical fields

Where: Can be done anywhere BUT, because it is a human-centered approach, it must involve multiple human beings through the process
Who: Anyone who is willing to adopt a "beginner's mind," an attitude of openness to new possibilities, curiosity about the problem and the people with it, and humility to be surprised and even wrong
Important Points & Fun Facts
Design Thinking IS a human-centered design approach

. This means that it seeks to develop solutions to problems by involving the human perspective at every single step of the process
Design thinking is NOT synonymous with user-centered design though user-centered design could be considered a subset of Design Thinking because it gives attention to usability goals and the user experience
Design Thinking was NOT invented by IDEO

, but I would argue that they have done more to popularize it and bring it into the mainstream, especially into business management practices, than any other person or firm.

Design Thinking IS the product of 50+ years of academic and practical study

and application. Here's some fun facts:

1935: The practice of Design thinking was first established by John Dewey as the melding of aesthetics and engineering principles
1959: The term "Design thinking" was coined by John E. Arnold in his book Creative Engineering
1991: the first symposium on Design Thinking was held at Delft University in the Netherlands
2000s: Design thinking is widely adopted as an innovation approach thanks to books by Richard Florida (2002), Daniel Pink (2006), Roger Martin (2007), Tim Brown (2009), and Thomas Lockwood (2010)
2005: Stanford's d.school begins teaching Design thinking as a general approach to innovation
Design Thinking is NOT just for radical/breakthrough/disruptive innovation

Design Thinking IS useful for all types of innovation

(something different that creates value) resulting from wicked problems. In fact, as far back as 1959, John E. Arnold identified four types of innovation that could benefit from a Design thinking approach:

Novel functionality, i.e. solutions that satisfy a novel need or solutions that satisfy an old need in an entirely new way
Higher performance levels of a solution
Lower production costs
Increased salability
If you want to learn more…
As noted above, there are lots of resources available to those who are deeply curious about Design thinking.  I recommend starting with Tim Brown's 2008 HBR article, Design Thinking, and then diving into IDEO's extremely helpful and beautifully designed website dedicated entirely to Design thinking.
Here's what I'd like to learn…
Was this helpful in clarifying what Design Thinking is?
What, if anything, surprised you?
What else would you like to know?
Drop your thoughts in the comments or shoot me an email at robyn@milezero.io