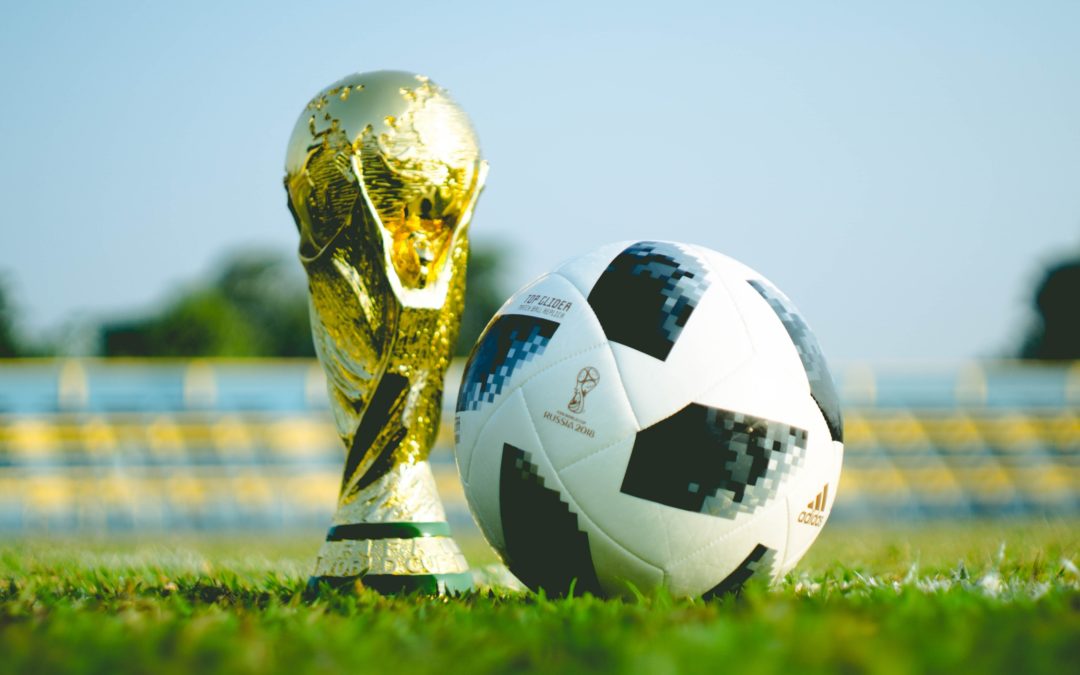 I am not a soccer fan but my husband is. So why, as a non-soccer fan, would I watch so many World Cup games?
I could spin a high-minded tale about the importance of diverse experiences in driving empathy and creativity and that "getting out of your comfort zone" and experiencing new things can be as simple as watching a new channel or program.
I could go all business guru and pratter on about the fact that sports tend to produce wonderful case studies of what to do and not to do in the areas of leadership, teaming, and all other things management
But the truth is that I spent most of June sick in bed with something that exactly mirrored Whooping Cough (it wasn't) and, during the Group Phase, I didn't have the energy to commandeer the remote control and change the channel. By the time we got to the knock-out phase, however, I had a bit more energy, had adopted several teams as my own (Sweden, Denmark, and England) and was peppering my husband with questions about players, teams, rules, and all other things soccer.
So, with the Final match scheduled for Sunday, thought I would share what I've learned about leadership and innovation from watching 40 soccer games.
---
#1: Teams need Leaders, not managers
Untold books have been written on this subject and it played out for the world to see during Argentina's World Cup run.
Argentina was considered one of the top contenders for the World Cup, having come in 2nd during the 2014 World Cup. The country has some of the world's greatest players and perhaps none are greater than "The Magician," Lionel Messi. With such a dominant line-up, it would seem that the coach's job would be relatively easy — win the trust and respect of the team's stars, inspire them to play well together as a team and then get out of the way.
But Argentina's coach, Jorge Sampaoli, couldn't seem to do that.
During Argentina's first game, three top players were inexplicably benched and the game, which Argentina should have won easily, ended in a tie (more on that in the next lesson). For the next game, Sampaoli "went with a bizarre 3-man backline" (I don't know exactly what that means but "bizarre" is never a word you want associated with your starting line-up) and the "disconnect between Aguero, Messi, and the others was apparent from the first minute."
The result? Argentina lost to Croatia 0–3 and the players staged a coup, holding a meeting with the Argentine FA chiefs (basically the "front office" of the team) to demand that Sampaoli and the entire coaching staff be fired as part of a "pact for life" because "the players want to build a team."
The coup failed. Sampaoli was allowed to keep his job (but was told he would be fired at the end of the competition). And the players, having no confidence or respect for the coach, resisted, fielding their own starting line-up for the third and final game of the Group Stage, a 2–1 victory over Nigeria.
Argentina struggled in the lead-up to the World Cup and underperformed during its first two games because it didn't have a Leader (someone the team respects and wants to follow), it had a Manager (someone who demands obedience based on a title or organization hierarchy). When leaders finally rose up, it was too late — Argentina barely qualified for the Knock-out stage and promptly lost 4–3 to France.
#2: Don't get hung up on job titles. Hire for skills.
In the first game of the Group Stage, Iceland, the smallest country ever to qualify for the World Cup, found itself playing Argentina. As if that were not challenging enough, in the 64th minute of a tied game, Argentina was granted a penalty kick and Lionel "The Magician" Messi stepped to the line. All he had to do was send the ball past Iceland's goalie and his team would have a 2–1 lead.
He missed.
To be more specific, one of the greatest soccer players of all time, one who makes 76% of his penalty kicks, had his kick blocked by a goalie who is better known for directing a Coca-Cola commercial than for playing soccer. When asked how he achieved such an impossible feat, Hannes Halldorsson, a former filmmaker turned goalie, attributed his success to "film study."
Sure, Halldorsson has soccer skills (basic job requirements) but kudos to Iceland's coach for seeing value in non-traditional experience and to Halldorsson for using them to prepare for the big game.
#3: If you're going to talk smack, you better be able to back it up
Sticking with the theme of Nordic goalies, let's talk about Denmark's Kasper Schmeichel. If there were such a thing as Danish soccer royalty, it would be the Schmeichels.
Peter Schmeichel, the family patriarch, was voted world's best goalkeeper in 1992 and 1993, captained Denmark to a championship in the 1992 UEFA World, AND captained Manchester United to the 1999 Champions League title and the Treble (it's like the Triple Crown but for English soccer and it happens about as frequently…which is rarely). His son, Kasper made his World Cup debut this year and promptly beat his father's record of most playing minutes (533 to be exact) for Denmark without conceding a goal.
So yeah, if Kasper talks smack to opposing players, daring them to try to get the ball past him, it's pretty certain that he can back it up.
Until he can't.
In Denmark's match against Australia, Schmeichel came out of the goal to get in the face of a Mile Jedinak while the player was lining up for his penalty kick. Trash talk is nothing new in sports (in fact, I'd argue that it has been honed to a fine and humorous art form) but whatever Schmeichel said apparently went too far for commentators on social media, in the press, and even game officials who warned him about getting too close to the Australian.
A few seconds later, the ball went screaming past Schmeichel, scoring the tying goal for Australia and ending Schmeichel's record.
#4: Don't be afraid to experiment (and don't let anyone tell you that you're experimenting too much)
Juan Carlos Osorio, Mexico's coach, has the highest winning percentage of any Mexican national coach in the past 80 years. So why were 85,000 fans shouting "Fuera!" (Out!) at him during the team's 1–0 victory over Scotland during a World Cup warm-up game in June?
Because he took the field with a new starting line-up.
It was his 48th different starting line-up in his 48 games as a national coach. That is a new line-up Every. Single. Game.
His tinkering continued into the World Cup where a new line-up beat defending World Cup Champions Germany only to be replaced by a new new line-up for game 2's match-up against South Korea (which Mexico also won).
In his 52nd game as Mexico's coach, Osorio changed tactics and did NOT change his line-up. They lost 3–0 to Sweden.
#5: Your performance, not your reputation, matters most
Speaking of Germany, 2014's World Cup champs came into the tournament ready to defend their title, ranked #1 in the world by FIFA, and with a 10–0 record in qualifying rounds.
They didn't even make it out of the Group Stage.
How shocking was this? I think The Guardian summed it up nicely:
This, then, is how the world ends, not with a bang but with a whimper. There are certain events so apocalyptic that it feels they cannot just happen. They should be signalled beneath thunderous skies as owls catch falcons and horses turn and eat themselves. At the very least there should be a sense of fury, of thwarted effort, of energies exhausted. And yet Germany went out of the World Cup in the first round for the first time in 80 years on a pleasantly sunny afternoon with barely a flicker of resistance. There was no Sturm. There was no Drang.
Sports, business, heck, even life, is tough. Past performance should count for something and it usually does — it earns an opportunity. But it's what you do with that opportunity that determines whether you win or lose.
#6: When all else fails, have a signature hairstyle
After watching 40 games, I have concluded that (1) hair is a big deal in soccer and (2) players must have access to hair product that the general public doesn't because their hair maintains its original style of 90+ minutes of intense exercise. Some cases in point…
---
There you have it. Every business/innovation/leadership/personal style lesson I learned from watching the World Cup. Now it's off to the hair salon…